Ready for News
AOG CONFERENCE, FEBRUARY 2014

A great afternoon was had by all 500 women at the Australasian Oil and Gas (AOG) inaugural Women's Networking Afternoon Tea at which Ready to Work was the Charity Partner. Thanks to the generosity of all who attended, we ran a successful fundraising raffle with substantial prizes kindly donated by Outback Initiatives, Hyatt Regency and Karmeleons Ladies Accessories and Gifts. Thank you everyone!
Due to circumstances beyond our control, the Ready to Work Quiz Night Auction & Fundraiser has had to be postponed. We will advise when a new date has been set. Our apologies if this has caused you any inconvenience.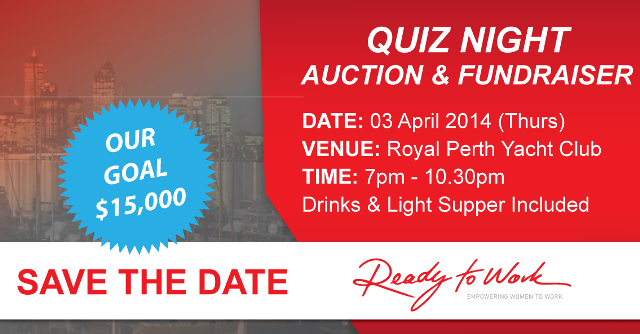 To meet community goals of helping more welfare-dependent, disadvantaged women into paid employment, we need to build our capacity to provide more of our unique, specialised, results-driven services to twice as many deserving WA women. To achieve this, we need larger operating premises and more resources. By attending this entertaining evening with your colleagues and friends - and in a spirit of generosity - you can help us to raise $15,000 or more towards our 2014 fundraising goal of $60,000 for this project.
Don't miss out. Book your tables and tickets NOW. CLICK HERE TO PURCHASE TICKETS
Ticket Prices: Individual $65 l Table of 10 $600 l Corporate Logo Table (10 guests) $880
Thank You Year 10 students at MLC

27 November 2013

Year 10s at MLC Claremont have been busy this term supporting Ready to Work and leading a major work clothing drive via college Mums and friends. Today, some of the hard-working, big hearted girls (pictured here) delivered the spoils to our office, all sorted and packed up. The goodies included much needed new make-up and panty hose supplies. Thank you so much, girls!
Perth Now The Most Expensive Australian City
11 July 2013
We knew that, didn't we?!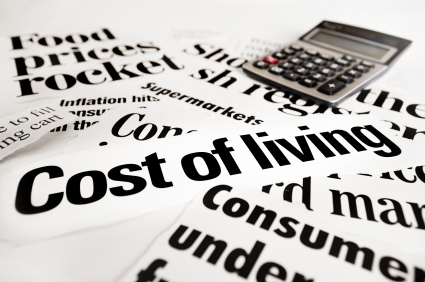 Perth is now Australia's most expensive city and the 10th-priciest to live in worldwide, according to an online cost of living index.
Numbeo, a website that claims to collate the world's biggest database of user-contributed data about cities and countries worldwide, now rates the Perth as more expensive than Darwin, Sydney, Canberra and Melbourne for consumer goods, including groceries, restaurants, transportation and utilities.
And the list also christens Perth as the most expensive city in the southern hemisphere, with the rest of the top 10 taken up by cities in Switzerland and Norway - with Trondheim classed as the most expensive place to live in the world. The Numbeo index, which is updated weekly, is based on a worldwide comparison of prices compared to those in New York City - with Perth rating 121.99, meaning on their analysis the city is 21.99 per cent more expensive than New York.
Almost to prove the point, it was revealed petrol in Perth is set to rise 16 cents per litre on Thursday to a five-year high average of 156.3 cents per litre.
ASIC Targets Ready to Work
24 June 2013
Staff from the WA Specialist Services division of the Australian Securities and Investments Commission (ASIC) descended on Ready to Work recently.
Thankfully, they weren't here to investigate the operations of Ready to Work – well, they were, but in a good way.
They came bearing gifts of work clothing for our clients as part of their End of Financial Year national team charity support program.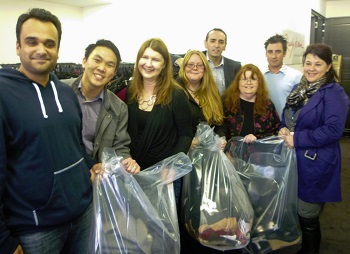 "Each year, each State team chooses a deserving charity and decides how they can best support the work of that charity," said team spokeswoman, Mirella Signore.
"We chose Ready to Work because we were impressed by what you are doing to enable unemployed women to maximise their chances of getting into the workforce and breaking the cycle of poverty."
John Wallace, ASIC's Senior Executive Leader of Specialist Services, visited Perth for the end of year activities and arrived with the team to help deliver the bags of clothing.
"There is great need in the community for what you are doing," John said. "Keep up the good work!"
---
Cheryl Kernot Visits Ready to Work
September 2010

Cheryl Kernot visited Ready to Work's premises in September 2010 as part of her visit to Perth to the Centre for Social Impact located in the University of Western Australia's Business School.
Cheryl commented that Ready to Work's services are fantastic and would further assist disadvantaged women here in Western Australia on their path to financial independence.
Cheryl Kernot - Associate Professor for Centre of Social Impact (left) with Rachael Hain, Managing Director (at the time),

Ready to Work.
---
Central TAFE - New Opportunities for Women (NOW) Program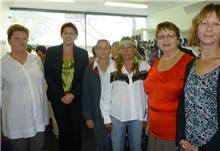 Ready to Work, in conjunction with Central TAFE, provided an educational seminar on the importance of being prepared for interviews, motivation, goal setting etc for women attending the NOW Program. This seminar showcased the services provided by Ready to Work to referred clients, available to the participants of the NOW program upon completion. The NOW ladies returned to Ready to Work for one on one service for work appropriate clothing and interview techniques.
The age demographic of the NOW participants ranges between 30-55 years of age. The client programs are directly related to our target markets: disengaged youth, single parent required to enter the workforce under Federal legislation and mature aged women.
---
Page last updated on: 25 June 2013